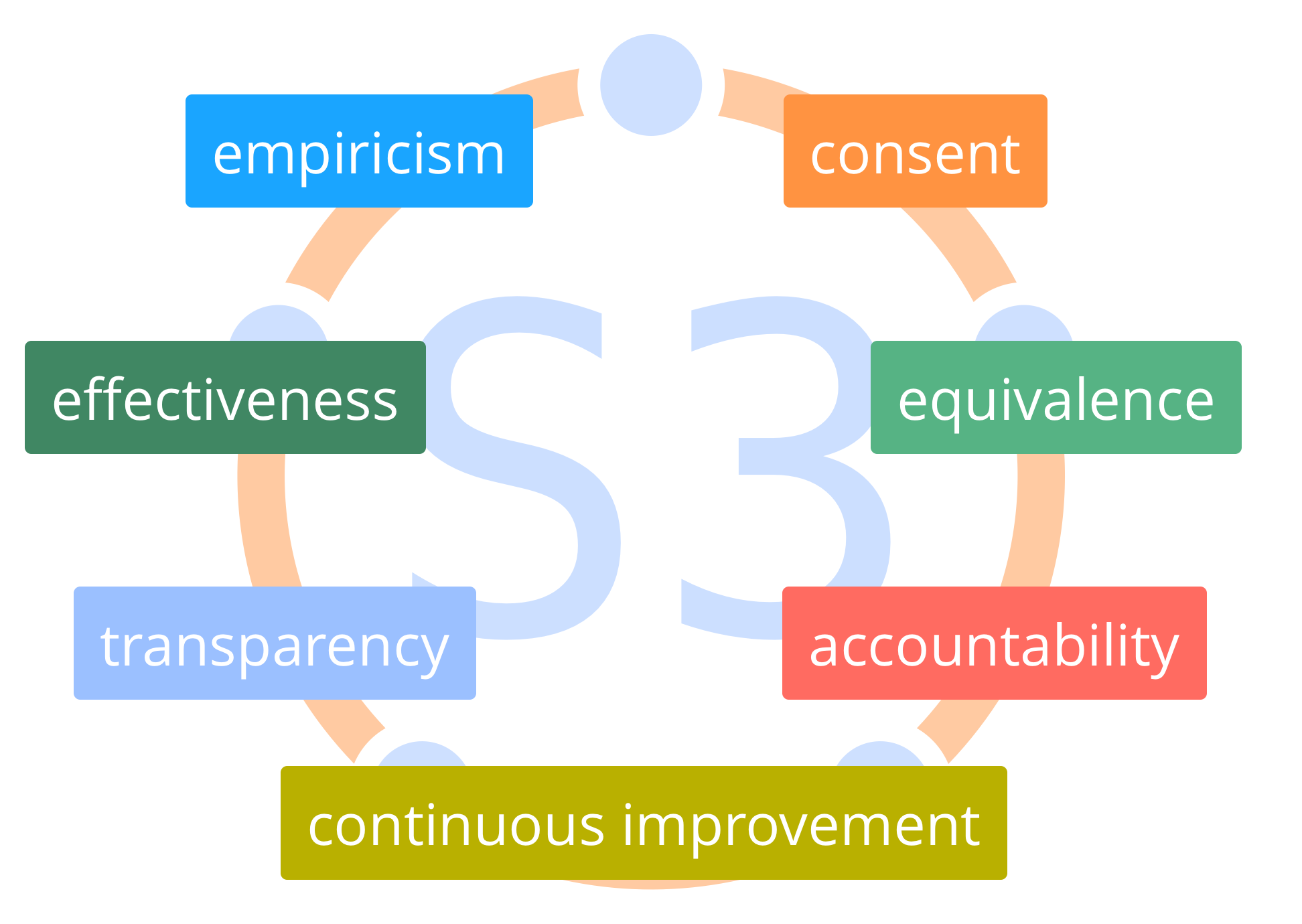 Samen met je medewerkers beslissingen nemen bevordert betrokkenheid en verantwoordelijkheidszin in je team. Maar hoe doe je dat zonder oeverloze discussies? Hoe krijg je een beslissing die geen flauw compromis is maar een motiverende stap vooruit?
Consent besluitvorming is een instrument van sociocratie 3.0 dat je hierbij kan helpen. Tijdens de training krijg je de theorie mee, oefenen we met de procedure en bespreken we waar jij consent besluitvorming kan toepassen in jouw bedrijf of organisatie.
Hoe neem je snelle en kwalitatieve beslissingen in groep?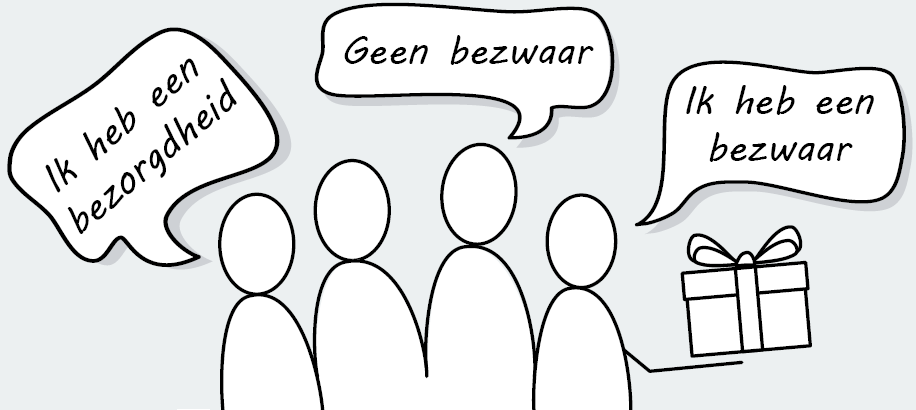 Hoe een voorstel formuleren?
Hoe oeverloze discussies vermijden?
Hoe iedereen in je team een gelijkwaardige stem geven?
Hoe beslissingen nemen die gedragen worden door iedereen?
Hoe snelle beslissingen nemen met een groep?
Welke randvoorwaarden zijn belangrijk?
Twee mindsets die het verschil maken
Hoe mensen uitnodigen in hun zelfverantwoordelijkheid?
Consent besluitvorming met je team – theorie en praktijk
Wanneer: Donderdag 31 mei, onthaal vanaf 9u, training 9u30 – 17u00
Waar: PREEZ – zaal La Maria, Karel Geertsstraat 2a, 2140 Borgerhout (route)
Prijs: 250,- € inclusief lunch (biologisch – vegetarisch) excl. BTW
Hoe te bereiken:
Openbaar vervoer: Lijnen 8 en 10 tot metrostation Zegel (1 halte van Centraal Station)
Auto: Ring Antwerpen – afrit Borgerhout; E313: richting centrum
Parkeergelegenheid ter plaatse voor 10 auto's, op voorhand af te spreken en carpoolers krijgen voorrang.
Fietsen: altijd welkom. Velo-station om de hoek.
<!-- Begin MailChimp Signup Form --><!-- [et_pb_line_break_holder] --><link href="//cdn-images.mailchimp.com/embedcode/classic-10_7.css" rel="stylesheet" type="text/css"><!-- [et_pb_line_break_holder] --><style type="text/css"><!-- [et_pb_line_break_holder] --> #mc_embed_signup{background:#fff; clear:left; font:14px Helvetica,Arial,sans-serif; }<!-- [et_pb_line_break_holder] --> /* Add your own MailChimp form style overrides in your site stylesheet or in this style block.<!-- [et_pb_line_break_holder] --> We recommend moving this block and the preceding CSS link to the HEAD of your HTML file. */<!-- [et_pb_line_break_holder] --></style><!-- [et_pb_line_break_holder] --><div id="mc_embed_signup"><!-- [et_pb_line_break_holder] --><form action="https://advies4kmo.us5.list-manage.com/subscribe/post?u=12781e7beed91db81dc9c58de&id=3ff8250b4e" method="post" id="mc-embedded-subscribe-form" name="mc-embedded-subscribe-form" class="validate" target="_blank" novalidate><!-- [et_pb_line_break_holder] --> <div id="mc_embed_signup_scroll"><!-- [et_pb_line_break_holder] --> <h2>Consent Besluitvorming</h2><!-- [et_pb_line_break_holder] --><div class="indicates-required"><span class="asterisk">*</span> indicates required</div><!-- [et_pb_line_break_holder] --><div class="mc-field-group"><!-- [et_pb_line_break_holder] --> <label for="mce-EMAIL">E-mailadres <span class="asterisk">*</span><!-- [et_pb_line_break_holder] --></label><!-- [et_pb_line_break_holder] --> <input type="email" value="" name="EMAIL" class="required email" id="mce-EMAIL"><!-- [et_pb_line_break_holder] --></div><!-- [et_pb_line_break_holder] --><div class="mc-field-group"><!-- [et_pb_line_break_holder] --> <label for="mce-FNAME">Voornaam <span class="asterisk">*</span><!-- [et_pb_line_break_holder] --></label><!-- [et_pb_line_break_holder] --> <input type="text" value="" name="FNAME" class="required" id="mce-FNAME"><!-- [et_pb_line_break_holder] --></div><!-- [et_pb_line_break_holder] --><div class="mc-field-group"><!-- [et_pb_line_break_holder] --> <label for="mce-LNAME">Familienaam <span class="asterisk">*</span><!-- [et_pb_line_break_holder] --></label><!-- [et_pb_line_break_holder] --> <input type="text" value="" name="LNAME" class="required" id="mce-LNAME"><!-- [et_pb_line_break_holder] --></div><!-- [et_pb_line_break_holder] --><div class="mc-field-group size1of2"><!-- [et_pb_line_break_holder] --> <label for="mce-MMERGE6">Telefoonnummer </label><!-- [et_pb_line_break_holder] --> <input type="text" name="MMERGE6" class="" value="" id="mce-MMERGE6"><!-- [et_pb_line_break_holder] --></div><!-- [et_pb_line_break_holder] --><div class="mc-field-group"><!-- [et_pb_line_break_holder] --> <label for="mce-MMERGE4">Bedrijf/Organisatie </label><!-- [et_pb_line_break_holder] --> <input type="text" value="" name="MMERGE4" class="" id="mce-MMERGE4"><!-- [et_pb_line_break_holder] --></div><!-- [et_pb_line_break_holder] --><div class="mc-address-group"><!-- [et_pb_line_break_holder] --> <div class="mc-field-group"><!-- [et_pb_line_break_holder] --> <label for="mce-MMERGE3-addr1">Adres bedrijf/organisatie </label><!-- [et_pb_line_break_holder] --> <input type="text" value="" maxlength="70" name="MMERGE3[addr1]" id="mce-MMERGE3-addr1" class=""><!-- [et_pb_line_break_holder] --> </div><!-- [et_pb_line_break_holder] --> <div class="mc-field-group"><!-- [et_pb_line_break_holder] --> <label for="mce-MMERGE3-addr2">Adreslijn 2</label><!-- [et_pb_line_break_holder] --> <input type="text" value="" maxlength="70" name="MMERGE3[addr2]" id="mce-MMERGE3-addr2"> <!-- [et_pb_line_break_holder] --> </div><!-- [et_pb_line_break_holder] --> <div class="mc-field-group size1of2"><!-- [et_pb_line_break_holder] --> <label for="mce-MMERGE3-city">Stad</label><!-- [et_pb_line_break_holder] --> <input type="text" value="" maxlength="40" name="MMERGE3[city]" id="mce-MMERGE3-city" class=""><!-- [et_pb_line_break_holder] --> </div><!-- [et_pb_line_break_holder] --> <div class="mc-field-group size1of2"><!-- [et_pb_line_break_holder] --> <label for="mce-MMERGE3-state">Provincie</label><!-- [et_pb_line_break_holder] --> <input type="text" value="" maxlength="20" name="MMERGE3[state]" id="mce-MMERGE3-state" class=""><!-- [et_pb_line_break_holder] --> </div><!-- [et_pb_line_break_holder] --> <div class="mc-field-group size1of2"><!-- [et_pb_line_break_holder] --> <label for="mce-MMERGE3-zip">Postcode</label><!-- [et_pb_line_break_holder] --> <input type="text" value="" maxlength="10" name="MMERGE3[zip]" id="mce-MMERGE3-zip" class=""><!-- [et_pb_line_break_holder] --> </div><!-- [et_pb_line_break_holder] --> <div class="mc-field-group size1of2"><!-- [et_pb_line_break_holder] --> <label for="mce-MMERGE3-country">Land</label><!-- [et_pb_line_break_holder] --> <select name="MMERGE3[country]" id="mce-MMERGE3-country" class=""><option value="164">USA</option><option value="286">Aaland Islands</option><option value="274">Afghanistan</option><option value="2">Albania</option><option value="3">Algeria</option><option value="178">American Samoa</option><option value="4">Andorra</option><option value="5">Angola</option><option value="176">Anguilla</option><option value="175">Antigua And Barbuda</option><option value="6">Argentina</option><option value="7">Armenia</option><option value="179">Aruba</option><option value="8">Australia</option><option value="9">Austria</option><option value="10">Azerbaijan</option><option value="11">Bahamas</option><option value="12">Bahrain</option><option value="13">Bangladesh</option><option value="14">Barbados</option><option value="15">Belarus</option><option value="16" selected>Belgium</option><option value="17">Belize</option><option value="18">Benin</option><option value="19">Bermuda</option><option value="20">Bhutan</option><option value="21">Bolivia</option><option value="325">Bonaire, Saint Eustatius and Saba</option><option value="22">Bosnia and Herzegovina</option><option value="23">Botswana</option><option value="181">Bouvet Island</option><option value="24">Brazil</option><option value="180">Brunei Darussalam</option><option value="25">Bulgaria</option><option value="26">Burkina Faso</option><option value="27">Burundi</option><option value="28">Cambodia</option><option value="29">Cameroon</option><option value="30">Canada</option><option value="31">Cape Verde</option><option value="32">Cayman Islands</option><option value="33">Central African Republic</option><option value="34">Chad</option><option value="35">Chile</option><option value="36">China</option><option value="185">Christmas Island</option><option value="37">Colombia</option><option value="204">Comoros</option><option value="38">Congo</option><option value="183">Cook Islands</option><option value="268">Costa Rica</option><option value="275">Cote D'Ivoire</option><option value="40">Croatia</option><option value="276">Cuba</option><option value="298">Curacao</option><option value="41">Cyprus</option><option value="42">Czech Republic</option><option value="318">Democratic Republic of the Congo</option><option value="43">Denmark</option><option value="44">Djibouti</option><option value="289">Dominica</option><option value="187">Dominican Republic</option><option value="45">Ecuador</option><option value="46">Egypt</option><option value="47">El Salvador</option><option value="48">Equatorial Guinea</option><option value="49">Eritrea</option><option value="50">Estonia</option><option value="51">Ethiopia</option><option value="189">Falkland Islands</option><option value="191">Faroe Islands</option><option value="52">Fiji</option><option value="53">Finland</option><option value="54">France</option><option value="193">French Guiana</option><option value="277">French Polynesia</option><option value="56">Gabon</option><option value="57">Gambia</option><option value="58">Georgia</option><option value="59">Germany</option><option value="60">Ghana</option><option value="194">Gibraltar</option><option value="61">Greece</option><option value="195">Greenland</option><option value="192">Grenada</option><option value="196">Guadeloupe</option><option value="62">Guam</option><option value="198">Guatemala</option><option value="270">Guernsey</option><option value="63">Guinea</option><option value="65">Guyana</option><option value="200">Haiti</option><option value="66">Honduras</option><option value="67">Hong Kong</option><option value="68">Hungary</option><option value="69">Iceland</option><option value="70">India</option><option value="71">Indonesia</option><option value="278">Iran</option><option value="279">Iraq</option><option value="74">Ireland</option><option value="323">Isle of Man</option><option value="75">Israel</option><option value="76">Italy</option><option value="202">Jamaica</option><option value="78">Japan</option><option value="288">Jersey (Channel Islands)</option><option value="79">Jordan</option><option value="80">Kazakhstan</option><option value="81">Kenya</option><option value="203">Kiribati</option><option value="82">Kuwait</option><option value="83">Kyrgyzstan</option><option value="84">Lao People's Democratic Republic</option><option value="85">Latvia</option><option value="86">Lebanon</option><option value="87">Lesotho</option><option value="88">Liberia</option><option value="281">Libya</option><option value="90">Liechtenstein</option><option value="91">Lithuania</option><option value="92">Luxembourg</option><option value="208">Macau</option><option value="93">Macedonia</option><option value="94">Madagascar</option><option value="95">Malawi</option><option value="96">Malaysia</option><option value="97">Maldives</option><option value="98">Mali</option><option value="99">Malta</option><option value="207">Marshall Islands</option><option value="210">Martinique</option><option value="100">Mauritania</option><option value="212">Mauritius</option><option value="241">Mayotte</option><option value="101">Mexico</option><option value="102">Moldova, Republic of</option><option value="103">Monaco</option><option value="104">Mongolia</option><option value="290">Montenegro</option><option value="294">Montserrat</option><option value="105">Morocco</option><option value="106">Mozambique</option><option value="242">Myanmar</option><option value="107">Namibia</option><option value="108">Nepal</option><option value="109">Netherlands</option><option value="110">Netherlands Antilles</option><option value="213">New Caledonia</option><option value="111">New Zealand</option><option value="112">Nicaragua</option><option value="113">Niger</option><option value="114">Nigeria</option><option value="217">Niue</option><option value="214">Norfolk Island</option><option value="272">North Korea</option><option value="116">Norway</option><option value="117">Oman</option><option value="118">Pakistan</option><option value="222">Palau</option><option value="282">Palestine</option><option value="119">Panama</option><option value="219">Papua New Guinea</option><option value="120">Paraguay</option><option value="121">Peru</option><option value="122">Philippines</option><option value="221">Pitcairn</option><option value="123">Poland</option><option value="124">Portugal</option><option value="126">Qatar</option><option value="315">Republic of Kosovo</option><option value="127">Reunion</option><option value="128">Romania</option><option value="129">Russia</option><option value="130">Rwanda</option><option value="205">Saint Kitts and Nevis</option><option value="206">Saint Lucia</option><option value="324">Saint Martin</option><option value="237">Saint Vincent and the Grenadines</option><option value="132">Samoa (Independent)</option><option value="227">San Marino</option><option value="255">Sao Tome and Principe</option><option value="133">Saudi Arabia</option><option value="134">Senegal</option><option value="326">Serbia</option><option value="135">Seychelles</option><option value="136">Sierra Leone</option><option value="137">Singapore</option><option value="302">Sint Maarten</option><option value="138">Slovakia</option><option value="139">Slovenia</option><option value="223">Solomon Islands</option><option value="140">Somalia</option><option value="141">South Africa</option><option value="257">South Georgia and the South Sandwich Islands</option><option value="142">South Korea</option><option value="311">South Sudan</option><option value="143">Spain</option><option value="144">Sri Lanka</option><option value="293">Sudan</option><option value="146">Suriname</option><option value="225">Svalbard and Jan Mayen Islands</option><option value="147">Swaziland</option><option value="148">Sweden</option><option value="149">Switzerland</option><option value="285">Syria</option><option value="152">Taiwan</option><option value="260">Tajikistan</option><option value="153">Tanzania</option><option value="154">Thailand</option><option value="233">Timor-Leste</option><option value="155">Togo</option><option value="232">Tonga</option><option value="234">Trinidad and Tobago</option><option value="156">Tunisia</option><option value="157">Turkey</option><option value="158">Turkmenistan</option><option value="287">Turks & Caicos Islands</option><option value="159">Uganda</option><option value="161">Ukraine</option><option value="162">United Arab Emirates</option><option value="262">United Kingdom</option><option value="163">Uruguay</option><option value="165">Uzbekistan</option><option value="239">Vanuatu</option><option value="166">Vatican City State (Holy See)</option><option value="167">Venezuela</option><option value="168">Vietnam</option><option value="169">Virgin Islands (British)</option><option value="238">Virgin Islands (U.S.)</option><option value="188">Western Sahara</option><option value="170">Yemen</option><option value="173">Zambia</option><option value="174">Zimbabwe</option></select><!-- [et_pb_line_break_holder] --> </div><!-- [et_pb_line_break_holder] --></div><!-- [et_pb_line_break_holder] --><div class="mc-field-group"><!-- [et_pb_line_break_holder] --> <label for="mce-MMERGE5">BTW-nummer </label><!-- [et_pb_line_break_holder] --> <input type="text" value="" name="MMERGE5" class="" id="mce-MMERGE5"><!-- [et_pb_line_break_holder] --></div><!-- [et_pb_line_break_holder] --> <div id="mce-responses" class="clear"><!-- [et_pb_line_break_holder] --> <div class="response" id="mce-error-response" style="display:none"></div><!-- [et_pb_line_break_holder] --> <div class="response" id="mce-success-response" style="display:none"></div><!-- [et_pb_line_break_holder] --> </div> <!-- real people should not fill this in and expect good things - do not remove this or risk form bot signups--><!-- [et_pb_line_break_holder] --> <div style="position: absolute; left: -5000px;" aria-hidden="true"><input type="text" name="b_12781e7beed91db81dc9c58de_3ff8250b4e" tabindex="-1" value=""></div><!-- [et_pb_line_break_holder] --> <div class="clear"><input type="submit" value="Inschrijven!" name="subscribe" id="mc-embedded-subscribe" class="button"></div><!-- [et_pb_line_break_holder] --> </div><!-- [et_pb_line_break_holder] --></form><!-- [et_pb_line_break_holder] --></div><!-- [et_pb_line_break_holder] --><script type='text/javascript' src='//s3.amazonaws.com/downloads.mailchimp.com/js/mc-validate.js'></script><script type='text/javascript'>(function($) {window.fnames = new Array(); window.ftypes = new Array();fnames[0]='EMAIL';ftypes[0]='email';fnames[1]='FNAME';ftypes[1]='text';fnames[2]='LNAME';ftypes[2]='text';fnames[4]='MMERGE4';ftypes[4]='text';fnames[3]='MMERGE3';ftypes[3]='address';fnames[5]='MMERGE5';ftypes[5]='text'; /*<!-- [et_pb_line_break_holder] --> * Translated default messages for the $ validation plugin.<!-- [et_pb_line_break_holder] --> * Locale: NL<!-- [et_pb_line_break_holder] --> */<!-- [et_pb_line_break_holder] -->$.extend($.validator.messages, {<!-- [et_pb_line_break_holder] --> required: "Dit is een verplicht veld.",<!-- [et_pb_line_break_holder] --> remote: "Controleer dit veld.",<!-- [et_pb_line_break_holder] --> email: "Vul hier een geldig e-mailadres in.",<!-- [et_pb_line_break_holder] --> url: "Vul hier een geldige URL in.",<!-- [et_pb_line_break_holder] --> date: "Vul hier een geldige datum in.",<!-- [et_pb_line_break_holder] --> dateISO: "Vul hier een geldige datum in (ISO-formaat).",<!-- [et_pb_line_break_holder] --> number: "Vul hier een geldig getal in.",<!-- [et_pb_line_break_holder] --> digits: "Vul hier alleen getallen in.",<!-- [et_pb_line_break_holder] --> creditcard: "Vul hier een geldig creditcardnummer in.",<!-- [et_pb_line_break_holder] --> equalTo: "Vul hier dezelfde waarde in.",<!-- [et_pb_line_break_holder] --> accept: "Vul hier een waarde in met een geldige extensie.",<!-- [et_pb_line_break_holder] --> maxlength: $.validator.format("Vul hier maximaal {0} tekens in."),<!-- [et_pb_line_break_holder] --> minlength: $.validator.format("Vul hier minimaal {0} tekens in."),<!-- [et_pb_line_break_holder] --> rangelength: $.validator.format("Vul hier een waarde in van minimaal {0} en maximaal {1} tekens."),<!-- [et_pb_line_break_holder] --> range: $.validator.format("Vul hier een waarde in van minimaal {0} en maximaal {1}."),<!-- [et_pb_line_break_holder] --> max: $.validator.format("Vul hier een waarde in kleiner dan of gelijk aan {0}."),<!-- [et_pb_line_break_holder] --> min: $.validator.format("Vul hier een waarde in groter dan of gelijk aan {0}.")<!-- [et_pb_line_break_holder] -->});}(jQuery));var $mcj = jQuery.noConflict(true);</script><!-- [et_pb_line_break_holder] --><!--End mc_embed_signup-->
Katrien Wijns (Aksident-project PREEZ) ontwerpt en begeleidt groepsprocessen volgens de principes van Art of Hosting. Met diepgang en speelsheid host ze teamsessies, leermomenten en participatieve besluitvorming, al dan niet met de inzet van de acteurs van Aksident.
Katrien werkte jarenlang als projectleider in de non-profit sector. Luisteren, noden aan de basis detecteren en bottom-up werken zijn haar handelsmerk. Ze breekt een lans voor een grote betrokkenheid én verantwoordelijkheidszin van werknemers in bedrijven en organisaties.
Als gedreven ondernemer in hart en ziel maakt Ivo graag het verschil. Hij inspireert bedrijven en zijn medewerkers naar autonoom werken. Op Wildlife Paddock werkt Ivo passioneel met paarden en brengt mensen dichter bij hun zingeving.
Zijn troeven zijn een onverwoestbare energie, zijn vermogen tot glasheldere analyses en zijn capaciteit om met een grote creativiteit het beste uit mensen en hun situatie te halen. Hij doet dit met doortastendheid, zachtheid en humor.
Zijn motto is dan ook: "Innerlijk leiderschap leidt tot een onverwachte flow van creatieve ontwikkelingen".
Na een carrièreswitch vanuit een zwaar belastende binnendienstfunctie koos Joke bewust voor een menselijke manier van ondernemen: zorgen dat organisaties en medewerkers 'mee zijn', focus houden op wat voor ieder belangrijk is, duurzaam groeien mogelijk maken. Joke houdt van exploreren, het onzichtbare zichtbaar maken, en verbinden.
Als project manager bij Advies4KMO draagt zij bij tot de implementatie van strategisch advies in KMO's, gaande van marketing en passief inkomen tot digitalisering en het creëren van zinvolle werkplekken.